 18 may 2022
'Chopard Loves Cinema'
For the 75th Cannes Film Festival, which coincides with Chopard's 25th participation as an official partner, Caroline Scheufele has chosen the theme 'Chopard Loves Cinema' as the inspiration for the Red Carpet Collection.
She has thus designed 75 High Jewellery creations, dreamed up as an epic saga inspired by the grand adventure of cinema from its early black and white charms to its dizzying contemporary colours. This creative abundance draws on her own repertoire and the magnificent models capture the watershed moment when contemporary cinema was born and began to blossom.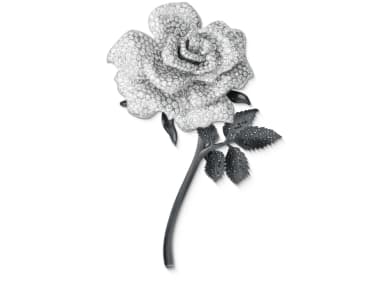 Red Carpet High Jewellery Collection
As usual, it is on the occasion of the Cannes Film Festival (now in its 75th edition held from 17 - 28 May 2022) that Caroline Scheufele will unveil her new Red Carpet High Jewellery Collection. In it, Chopard's indefatigable Co-President and Artistic Director expresses the zest for life and eclectic tastes driving her prolific inventiveness, along with her dazzling capacity to arouse jewellery emotions.

Much like a film director, this keen lover of the seventh art has devised an High Jewellery collection freely inspired by films that have had a lasting impact on her and of which the fabled scenes have been inducted into cinema's hall of fame.

In tribute to the 75th Cannes Film Festival, no fewer than 75 High Jewellery creations compose this collection unveiled against the backdrop of the Festival's famous red carpet. A technical feat, brought to life through the combined talents and expertise of a team of jewellers such as only Chopard is capable of assembling.
From films to luxury jewellery: boundless inspiration
The High Jewellery collection opens with a standout brooch sculpting the allure of the wearer – with these items now a token of singular elegance favoured by both men and women. Charlie Chaplin's first sound film, City Lights, which inspired this showpiece, was a pivotal moment in cinema. Caroline Scheufele's sheer passion for Chaplin's genius bears witness to the raw emotion and virtuoso performance skills with which she nurtures her own creations.

The rest of the High Jewellery collection stars a number of roses, including a choker composed of pink sapphire beads and featuring a detachable floral motif that becomes a delicate brooch; along with a ring graced with exquisitely sculpted petals covered in pink sapphires protecting a two-carat diamond at the heart of the flower.