Little diamonds do great things
Happy Hearts Jewelry
The choice of a piece of Chopard jewelry is never meaningless. In addition to being aesthetically extraordinary, it carries a value that represents recognition and affection. The choice of Happy Hearts diamond jewelry is that of a woman with a Big Heart, an everyday heroine for whom the Maison's commitments are an echo of her own generosity. Inspired by the idea that she should not indulge herself at the expense of others, the woman with the Big Heart sees Happy Hearts jewelry designs as being truly coherent with her own value system and intertwined with altruism.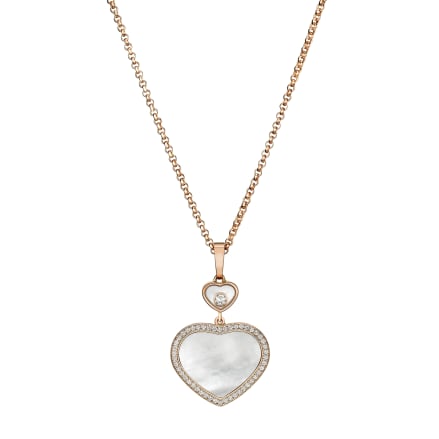 Happy Hearts
The emblem of Chopard jewelry
Combining colored hearts with the legendary dancing diamonds – two elements chosen as symbols of the Maison – the Happy Hearts diamond jewelry collection offers an assortment of creations to be worn as veritable talismans, both for the small joys of everyday life and for the sparkle of special occasions.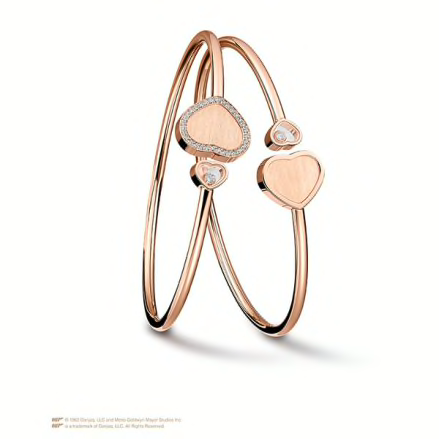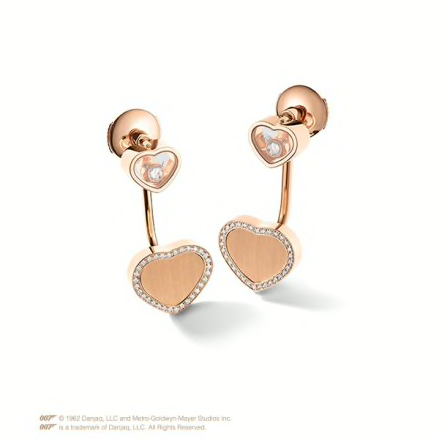 007 X Chopard
Happy Hearts Golden Hearts
Through this luxury jewelry line, Co-President and Artistic Director Caroline Scheufele shares her vision of the James Bond Woman: a determined and courageous woman. The Happy Hearts - Golden Hearts Collection playfully alternates a large golden heart and a smaller heart containing the famous dancing diamond, signature of the Maison and a symbol of freedom and adventure.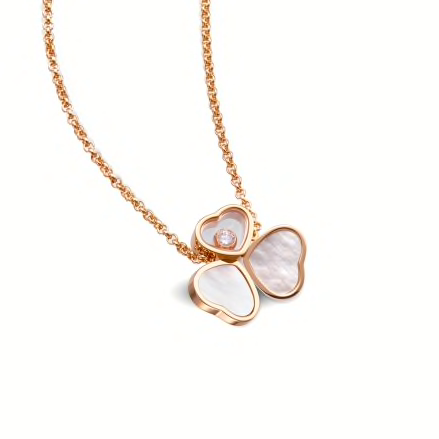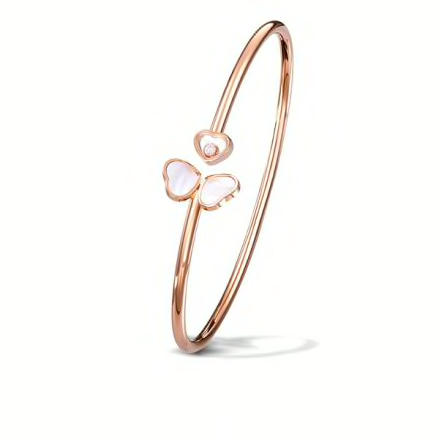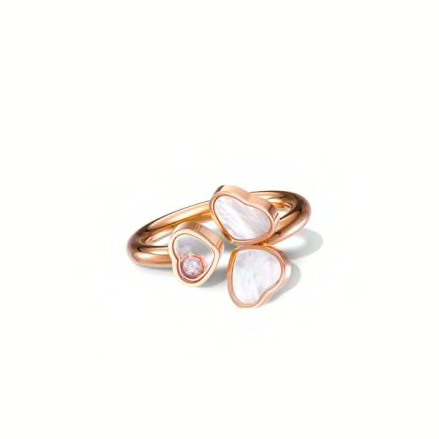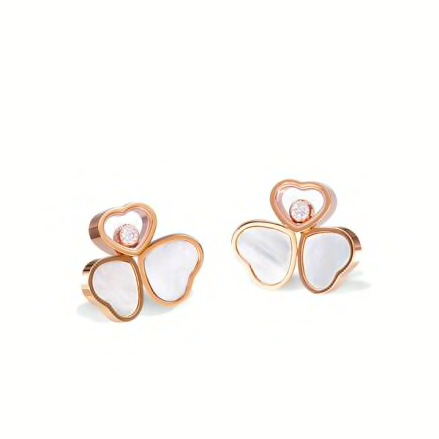 Liberated and generous
Happy Hearts Wings
The curves of its wings form a beautiful heart in mid-air. The butterfly, the ideal symbol of lightness and metamorphosis, brings its full elegance, daintiness and symbolic strength to the Happy Hearts Wings collection.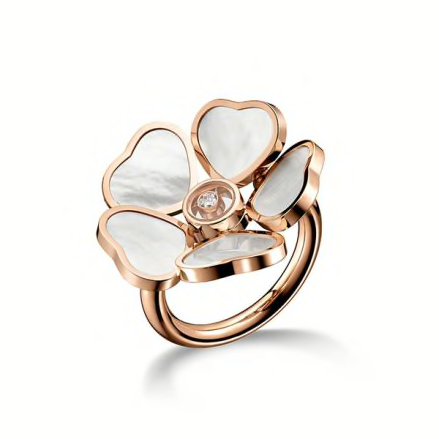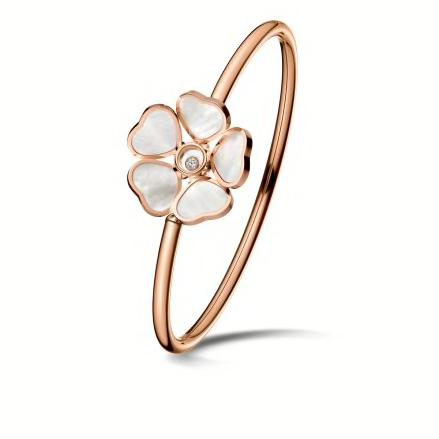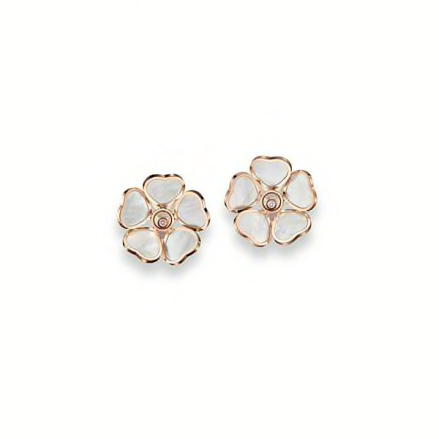 Heart-shaped petals and a dancing diamond
Happy Hearts Flowers Jewelry
Happy Hearts Flowers plays on the symbol of the Maison by arranging a corolla of five gold hearts around a dancing diamond, thus forming delicate and extremely feminine flowers. Fashioned in ethical 18-carat gold, bangle bracelets, rings, earrings and pendants enrich the garden of this line for Big-Hearted women.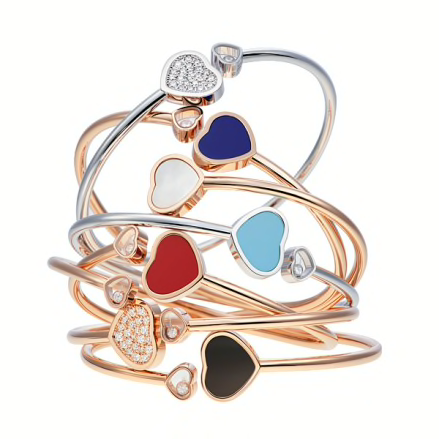 Emblematic Piece
Heart Bangle Bracelet
Luxury bangle bracelets confront each other in a gracious dance, with a colored heart and a heart containing a diamond at each end.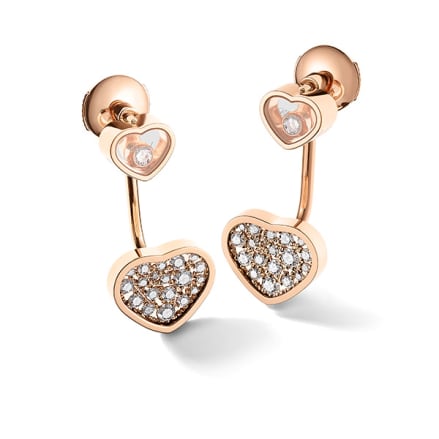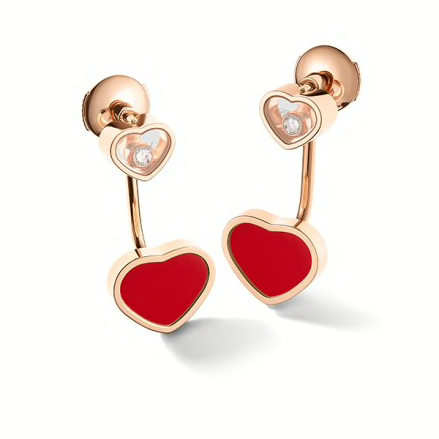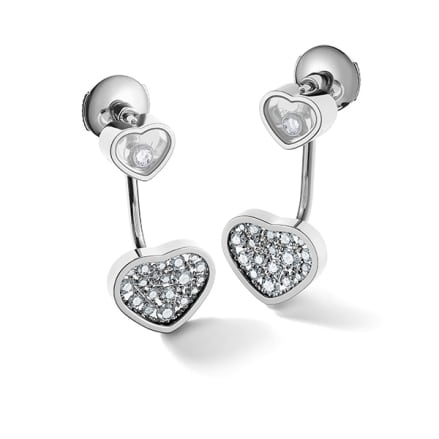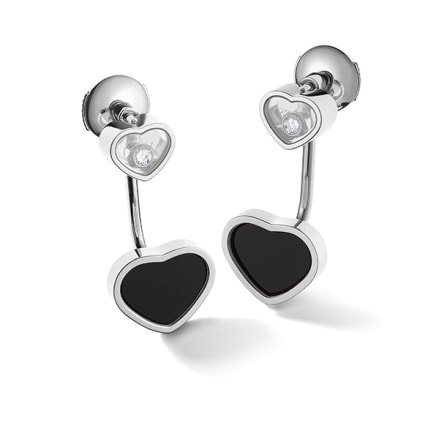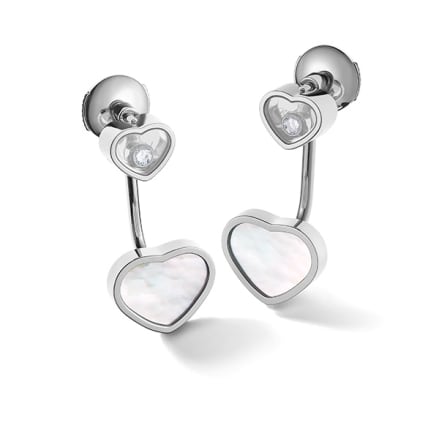 Two-In-One
Happy Hearts Ear Jackets
These heart diamond earrings perfectly sum up the full spirit of the collection: precious yet light, versatile yet faithful to its own style, colorful yet understated.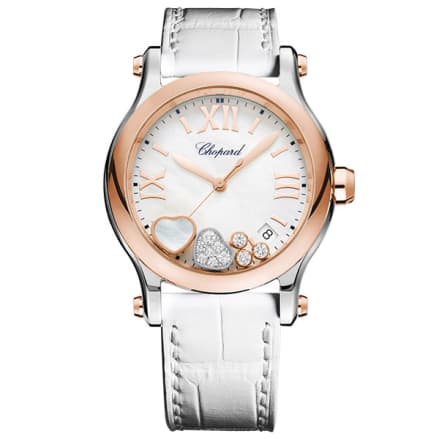 Exclusive diamond watches
Happy Hearts watch
The Big Heart of the Happy Hearts collection appears on the cheeky dial of the Happy Sport floating diamonds watch, the watchmaking achievement that for 25 years has been making diamonds dance in a spirit of continually renewed Joie de Vivre.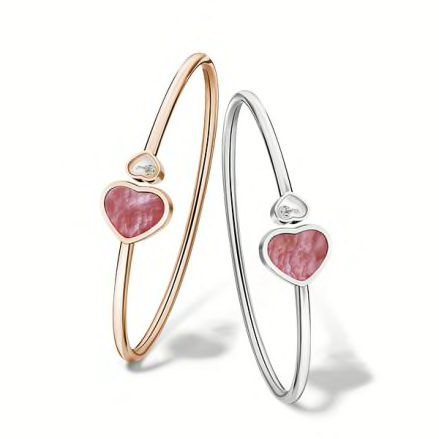 Happy Hearts jewelry
Women with big hearts
Driven by a deep desire to support good causes, Chopard has chosen to associate its Happy Hearts jewelry collection with various not-for-profit associations led by women with big hearts: the Naked Heart Foundation, the All Hands and Hearts Foundation and the Education Above All Foundation. Happy Hearts
Little diamonds do great things
At Chopard, Joie de Vivre is a founding principle, a breath of fresh air, a form of momentum that is meant to be shared. At the heart of every daily action, it is this very movement that flutters and brings to life the mobile diamonds' endlessly renewed ballet. Through the grace of a gesture, a generous sign of attention or a smile, the entire universe lights up.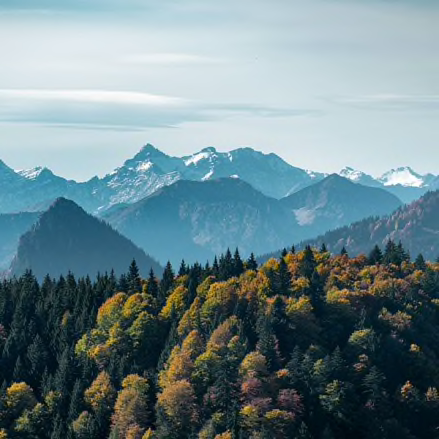 Ethical gold
A sustainable vision of luxury
We ensure that our high-quality materials are responsibly sourced. Since July 2018, Chopard has been using 100% ethical gold in the production of all its watches and jewelry.